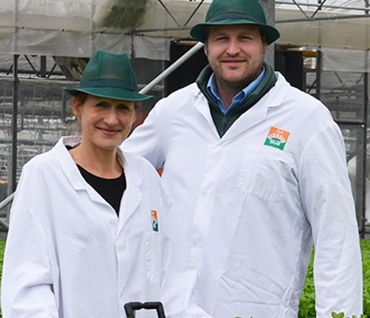 A family business
Established over a century ago, Dawndew Salad is a family business spanning five generations. The Ingle family take great pride in growing, cutting, packing and washing niche salad products for all sectors of the food industry.
Having started in 1901 on a small rented field in Thornton-Cleveleys, Lancashire, Dawndew Salad has grown to become one of the UK's leading specialist salad cress, pea shoot and micro leaf producers. In 1990, the company moved to its current premises in Poulton-le-Fylde, Lancashire where the business has continued to invest to ensure its growing methods and techniques produce consistent, high quality and environmentally responsible salad products all year round.
A family tradition of quality and modernity continues today with a fifth generation of Ingles' at the helm.
Ensuring quality
Dawndew Salad ensures their customer expectations are met and the appropriate food safety standards are maintained. Their crops are grown in the UK, without the use of pesticides and are Red Tractor certified.
Protection of the environment
Dawndew Salad is committed to reducing its environmental footprint and this is demonstrated in a variety of ways by:
recycling where possible and reducing reliance on natural resources, such as water
investing in more energy efficient technology and equipment
utilising recycled materials which are more sustainable as growing mediums
selecting packaging which has minimal impact on the environment