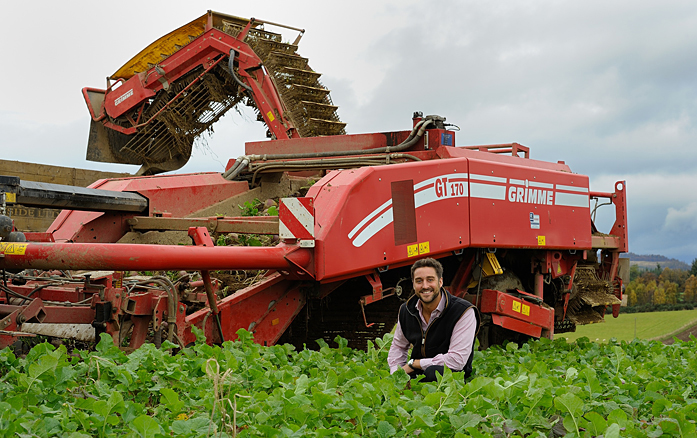 Based on the banks of the Tay, at Glencarse, Perth, Scotland, the Stewart family and their predecessors have farmed at Tofthill since 1930. Today, they farm over 3,500 acres of land and have generations of experience growing swede, soft fruit and arable crops.
Stewarts of Tayside supply  UK home grown swede all year round. They grow their crop in multiple regions across Scotland, England and Wales, which reduces the risk of crop failure and allows for the crop to develop at different rates. However, the bulk of their swede crop is grown in Scotland, where the cooler ambient temperatures and high levels  of rainfall help guarantee a consistently high quality crop of swede. Furthermore, the growing conditions in the East of Scotland see decreased pest pressure.
The growing cycle commences with drilling in March – June every year, with the crop
harvested from July through to April. Stewarts of Tayside have the capacity to harvest 1,200 tonnes of swede a day, and have invested significantly in cold storage facilities to guarantee a 52 week supply of UK swede.
They have a strong focus on producing their crops in partnership with nature, and aim to become less reliant on the use of chemicals year by year. Steps they have taken to achieve this include promoting biological activity around the root zone and reducing the application of mineral fertilisers.
Since 2001 every acre of their swede crop has been covered with insect netting to predominantly protect against cabbage root fly, which has reduced their pesticide usage by up to 98%.
Stewarts of Tayside are Red Tractor Farm Assurance, LEAF, M&S Field to Fork and Global G.A.P accredited.