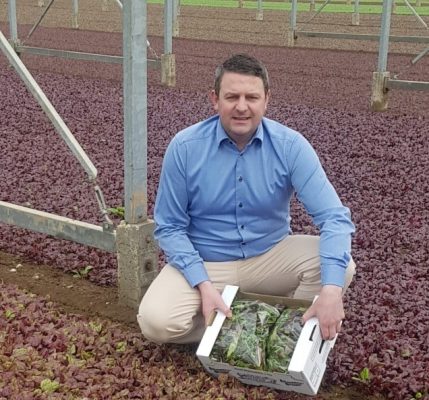 Based in Leamington Spa, Warwickshire, Blackdown Growers are specialist growers of baby leaves and herbs.
They were founded in 1969 and now have five growing sites across Warwickshire, Norfolk and Evesham. These are set up to grow crops both outdoors and in glasshouses so that they can guarantee UK crops all year round.
The company's mission is to provide their customers with a consistent, high quality supply of products, which is achieved through established growing and production systems, as well as a talented team who are driven by the company's four key values of freshness, adaptation, service and traceability.
Growing methods
Every process of the growing cycle is managed by expert operators, from the drilling of the seed through to the packaging handler who applies the finishing touches. Automated irrigation systems are installed in both the glasshouses and the outdoor growing areas, allowing the team to apply water, pumped from the sites borehole, to the crop wherever and whenever they need.
The farming systems used by Blackdown Growers are regularly reviewed and new, innovative ideas are implemented where possible to increase efficiencies.
Their packing facility in Warwickshire has over four purpose built fridge coolers and various automated packing lines. They also have a fleet of refrigerated trailers so the crops are always kept in the coolest environment once they are harvested.
Protecting the environment
Blackdown Growers are fully accredited by BRC andRed Tractor. They are also a LEAF marque grower and are committed to producing food in a sustainable way, without impacting the environment. All materials within the Blackdown Group are either recycled or re-used.
Water management plays a crucial role in the growing and preparation of baby leaves. Blackdown Growers water is sourced from boreholes on every growing site, which is fresh and full of healthy minerals, helping to produce the very best quality baby salads. Water lagoons have also been created as catchment zones for rainwater, which create great habitats for wildlife.