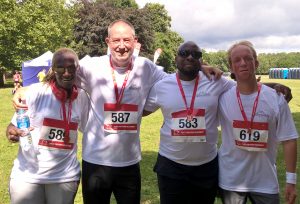 On Sunday 7th August Reynolds' Runner Beans, as part of our Refresh and Revitalise, Health and Well-being programme, took to the track again to raise funds for the British Heart Foundation.
Reynolds' "Fab Four" were Phil Robinson (H&S), Michael Stewart (QC) Debi Vaughan (Cleaning Supervisor) and Christopher Nwazota (Goods In). In the sweltering heat of London's East End Victoria Park, the runners successfully completed the 5km distance.
Congratulations to all! The next event will be Reynolds' Ramble on 10th September.