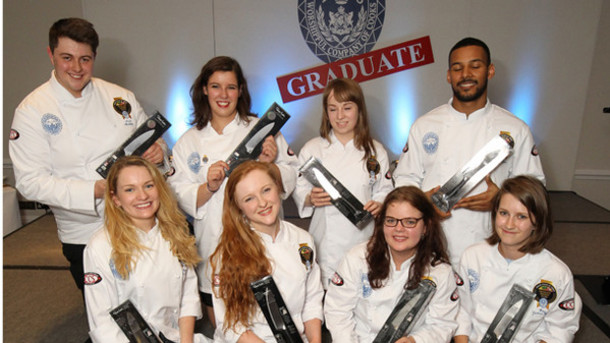 Reynolds would like to extend heartfelt congratulations to the winners of this year's Craft Guild of Chefs Graduate Awards, held in London on the 6th September. This year marks the 14th year of the Graduate Awards examinations which, to date, only 48 chefs have ever passed.
Amber Francis, a chef at The Ritz in London, took away the Highest Achiever prize at the awards with four others achieving a pass mark of 85 per cent or more. They were Erin Jackson Yates from Wiltons, Eleanor De Maria of Compass House, Andre Rhone of The Bingham and Aaron Middleton of Belmond Le Manoir aux Quat'Saisons.
Kacey Bignell from The Mandarin Oriental Hotel was awarded the Highest Achiever Award in the inaugural pastry graduate exam with Rita Souto from Park Lane Hilton and Fiona Bailey from The Dragon also making the grade.
As the perfect opportunity to improve young chefs' skills and showcase the culinary talent the UK has to offer, the event is a key date in the diary for spotting new starts. This year's awards were particularly exciting, as they featured the inaugural Pastry Graduate Award. Receiving the Graduate Award has proved career changing with previous Graduates going on to gain Michelin stars, work in some of the world's top restaurants, be part of the world skills team and even win the Young National Chef of the Year title.
To become a graduate, an examination is used to test and improve the skills which chefs have learnt at college and in their early careers, and take them to the next level. Chefs have to go through a tough entry process including a paper entry, heats and then final examination. This includes a theory paper, butchery and fishmongery tasks as well as creating a 'mystery basket' dish, classic main course and a dessert that will really impress the panel of culinary experts.
The entry process will re-open in January 2017. If you'd like to be notified when the entries are open, please sign up on the Craft Guild of Chefs website: http://craftguildofchefs.org/
Chair of examiners, Russell Bateman said "The standard in the final exam has gone to another level from the heats and it was fantastic to see growth and development in the chefs. Whether they achieve the pass mark or not, entering the Graduate Awards is only going to make young chefs stronger."
Join in the conversation about the Graduate Awards by tweeting @Craft_Guild and using the hashtag #CGCGradAwards.
Reynolds is proud to have sponsored the Craft Guild of Chefs Graduate Awards since its inception.