From Madalene Bonvini-Hamel, Head of Food, Diane Camp, Executive Development Chef and Morgane Thouvenel, Head of Innovation and Insights
3 hungry foody ladies on a Food Tour…
On Friday 6th May 2022, the Innovation & Insight and Food Teams went on a food study tour in London, in search for the latest trends and concepts. And here are our highlights of the day.
Our first stop was Mallow for breakfast. Mallow is a 100% plant based restaurant, near Borough market. It's a very pretty and small restaurant, with a cosy and trendy feel. Sustainability and seasonality are key pillars for them, and we can assure you, they do not compromise on taste!
The menu is rather short, which we take as a good sign of fresh ingredients used! The inspiration is broad with a strong nod to Asian and Mediterranean cuisines.
From the Thali brunch (including dhal, flatbread, scrambled tofu, okra) to the roast pineapple cardamon porridge, the food was delicious, tasty and rich. This is the perfect example of how plant-based cuisine can be so inspiring and complex in flavours. We were particularly impressed by the scrambled tofu, one of the nicest we ever tasted!

Our next stop was Borough Market, where we wondered in the alleys, looking at all the beautiful seasonal produce and fish that were available. For foodies like us, it was truly exciting and inspiring. The fish counters were full of seasonal fish & shellfish – Cornish Red Mullet, Razor Clams, Gilt Head Bream.
The fruit and veg stand had both a great mix of mainstream ingredients as well as the weird and wonderful. From elephant garlic to feijoa and of course the British classics like, wild garlic, English asparagus and fresh broad beans, you can find anything in Borough, even black garlic vegan butter!

We also walked through Spitafields Market, Boxpark (Shoreditch) and the new Arcade Food Hall in Tottenham Court Road. They are always good places to see the latest cuisine trends and concepts. One common thing we saw is how operators specialise in one cuisine or even one specialty of said cuisine. It is all about being the expert in a chosen field.
Emerging Cuisines, Food and Drink Concepts :
North Indian, Nepalese Cuisine, Southern Thai, Indonesian, Lebanese/ Middle Eastern, Persian, Greek Souvlaki, Argentinean Grill, Acai Superfood Bar, Salt Beef, Beef Pastrami, Spanish Tacos, Dumpling and Katsu Specialist, Sushi Tacos, Frozen Fruit Yoghurt, Jerk Chicken, Small Batch Coffee Roasters.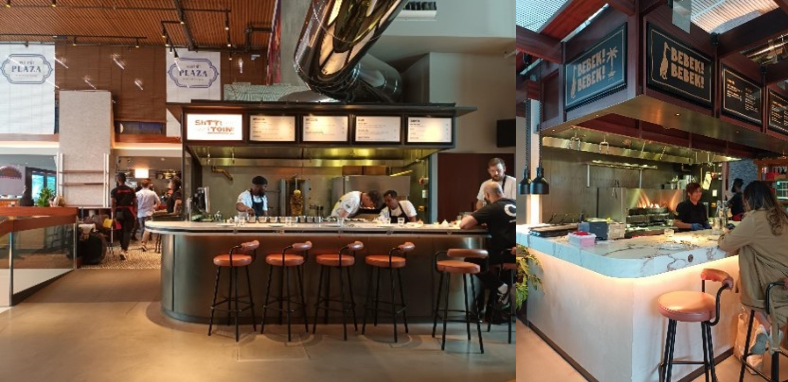 We then visited Gloria, in Shoreditch. The Big Mamma group is now a big player on the London food scene for Italian cuisine, with three restaurants (Gloria, Circolo Popolare and Ave Mario). Gloria was the first one to open, and is the perfect Instagram spot. From the beautiful outside to the over-the-top décor inside. This capri-style Italian trattoria offers the perfect immersion into an Italian décor, far away from London. As soon as you enter the place you're charmed, by the cosy booths, the soft comfortable furnishing, the colourful dishes and plates. No doubt this has all been designed for the Instagram crowd, beyond the delicious food experience Gloria has to offer.
We tried one of their signature dish : the over-sized impressive beef carpaccio, with tangy celery's pickles on top. There is a lot of theatre brought to the table too, with the dish plated at the table from the massive serving plate. The lemon meringue tart was as outrageous, over indulgent, big and bold! This one does more for the eye than for the taste though.
With Italian cuisine still one of the hottest cuisines in the UK, Gloria stands out of competition because of the experience it proposes, it is not just about the food, it is about the décor, the Italian trattoria feel, the "Instagrammability" (does that even exist?) of the place and food.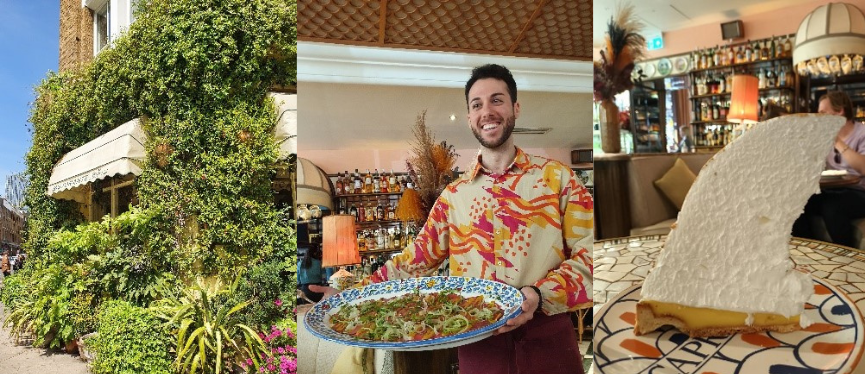 Our last stop was Fallow, right by Picadilly Circus. This is a trendy, upmarket restaurant with a big focus on sustainability, which here does not mean 100% plant-based, but rather conscious, better choices.
Behind this restaurant are two Chefs, Will Murray and Jack Croft, two ex-Heston Blumenthal chefs who channel creative cooking, sustainable thinking & elevating humble ingredients.
They grow their own mushrooms in their basement & cure their charcuterie in-house.
Unlike most restauranteurs, they use 6-year-old ex-dairy cows that have served their purpose, resulting is highly flavoured beef products. They also champion head to tail eating: Cods head & Whipped Salmon Belly (served in a bone marrow!)
One signature dish that wowed us was the Mushroom Parfait, which was indeed parfait! Tastes and looks like a chicken liver parfait but is made with the in-house grown mushrooms. Texture, taste and looks were spotless.
The menu also echoes the "sharing" trend : everything is designed to be shared, small plates and wooden boards. This creates a very social, friendly atmosphere.

That was it for today, we were really pleased with all the concepts seen / visited. From plant based to indulgent eating, we left well inspired (and quite full!).
We will test more concepts in the coming months and get back to you with our latest findings!