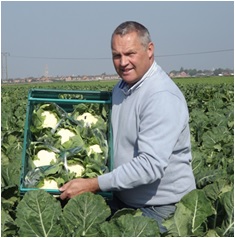 TH Clements, located on the East Coast of Lincolnshire just north of Boston is one of Reynolds main suppliers of Brassicas, supplying cauliflower, broccoli, cabbages, spring greens and Brussels sprouts.
A proud history of farming
TH Clements is a family-owned third generation vegetable company founded in Lincolnshire in the late 1940s by Harry Clements. Founded as a 16-acre smallholder, the business has been developed by Harry's son Alan and grandson Chris into an industry-leading farming and packing company, which now grows over 10,000 acres of Brassicas. The farming operation is overseen by Neil Sharpe – Head of Farming.
Neil has been farming for over 25 years and is well respected within the brassica growing industry. The main growing areas are the fertile silts of Lincolnshire with a substantial acreage in Cornwall during the cold winter months. Produce is supplemented in the UK with small quantities grown in Suffolk, Norfolk and Kent. Crops are also grown for T H Clements in Spain, France, Italy, Poland and Germany to ensure continuity all year round. T H Clements use the latest farming technologies to ensure the best quality and continuity of supply. Crops are rotated with potatoes, cereals and peas to ensure the land stays in the best condition possible.
A sustainable operation
TH Clements are committed to enabling the absolute sustainability of farming from both an economic and environmental perspective. The schemes they operate within encourage a holistic approach to farming and fully embrace integrated farm management principles. They continue to promote environmental responsibility amongst the staff as well as throughout the supply base and within the local community. The company operates within several assurance schemes such as Leaf, Assured Produce, and Red Tractor.