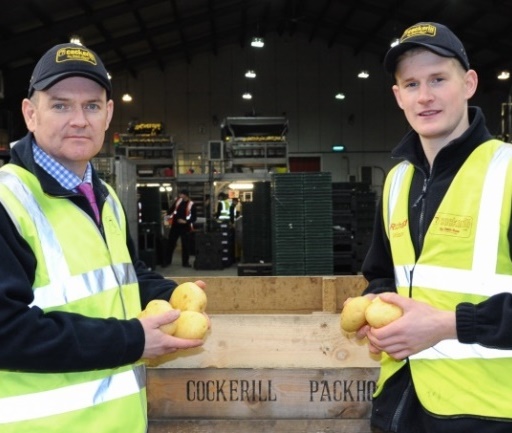 History and location
R S Cockerill is a family business founded during the 1930s. The founder of the company, Ronald S. Cockerill, began farming a rented plot of land to grow carrots, which later expanded with the acquisition of a farm tenancy near York. Potato and carrot trading operations became the mainstay of the business following the company's role in the 'Dig for Britain' war campaign, distributing farm produce to those in greatest need.
Managing Director, Martin Cockerill, joined the company in 1967 and worked to develop an aerial crop spraying service and a pre-pack business serving retail multiples and large wholesalers.
R S Cockerill has seen substantial growth in recent years and now operate a modern packhouse at Dunnington, with storage and grading facilities, offices and a quality analysis laboratory.
Growing and sourcing
R S Cockerill sources much of their potato supply from a committed grower base, many of whom have supplied them for several decades, placing a strong focus on consistency, quality, and value. The team are involved in all aspects of the potato supply chain and manage a grower group to deliver a complete, year round, supply chain service. They harvest 200 hectares of potatoes a year which they store, wash and pack into a range of pack formats.
R S Cockerill operates a BRC and Red Tractor accredited packhouse.
Innovative and sustainable practices
Having invested heavily in productivity and automation equipment to increase flexibility and reactiveness, R S Cockerill is always looking out for the latest product and process innovations. They run their own field trials for fresh and processing potatoes, and are continually working on automating their IT and administration systems to improve efficiencies.