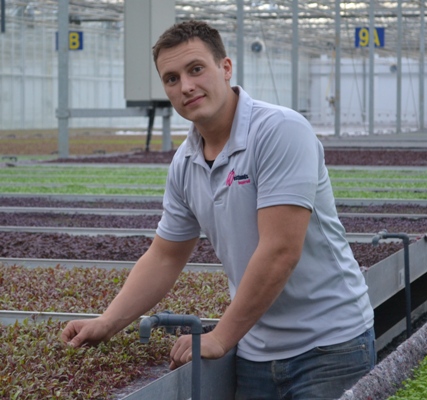 An area renowned for its innovation, micro-leaves have quickly grown in popularity throughout the catering industry over the last few years. Reynolds' grower, William Boers from Westland Nurseries, is an expert in this versatile product area, as well as in the other top quality produce grown by Westlands.
Based in Offenham near Evesham, an area renowned for its fresh produce, William and the team grow in specially designed glass houses located over seven acres. William uses a combination of growing knowledge and innovative technology to produce unique and consistent products year round. The micro-leaves (young versions of salad leaf and herbs) are grown to exact specifications to ensure their intense flavours come through.
The micro-leaf growing process takes anywhere between 10 to 40 days and is now largely automated to provide the consistent quality required. Of course, the production does still require the 'human element' and expert growing knowledge. Seeds are primed and then sown on matting, before moving to a mobile bench system which carries the crops through the dedicated sections of the glasshouse until ready for picking. A purpose built machine harvests the leaves, before a dedicated team carefully pack them into punnets.
William is also responsible for maintaining Westlands' newer collections, such as 'Taste of the Sea' and 'Inspired', not to mention an interesting range of heritage tomatoes in all colours and sizes.
Designed to work in conjunction with all types of sea food dishes, the 'Taste of the Sea' collection is a range of products normally found around the seashores of the UK and Europe, many of which are traditionally foraged. William and the team now grow a seasonal range of these products including samphire, sea fennel, salty fingers and Ice lettuce in a specially controlled environment. The team know exactly how much and what type of salt the final product needs, to ensure maximum flavour as well as a natural taste.
The 'Inspired' collection is something William is particularly proud of and is an evolving and seasonal range of products designed for the more experimental or aspirational chef. The range contains edible flowers, unusual herbs and leaf items not commonly found, but all with that 'wow factor' and real menu appeal. All require careful attention and expert growing knowledge to ensure absolute consistency for demanding kitchens. Apple blossom and Shiso leaves are just two of the latest additions.
A Red Tractor accredited grower, Westlands is as environmentally responsible as possible. William reuses water to irrigate the crops, uses natural predators to control pests and recycled matting to grow crops on.