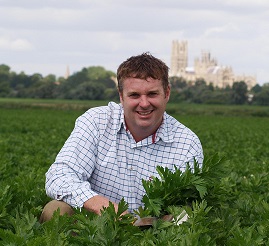 Gareth McCambridge grows much of Reynolds' lettuce and celery in the Cambridgeshire Fens on JB. Shropshire & Sons Farms, a specialist conventional and organic salad and vegetable producer with over 60 years of experience.
Ensuring quality
Gareth has been a grower for almost ten years but has been involved in farming all his life, starting on his family's dairy farm as a schoolboy.
The main varieties of lettuce grown are Iceberg and Little Gem, which comes in both green and red varieties. Over 72 million heads of lettuces and celery from May through to the end of October are produced, all of which is cut and packed in the field. Over 20,000 tonnes of onions are harvested and stored for supply from August through to May. All lettuces are cut and bagged on bespoke rigs in the field and then cooled within an hour before being dispatched from the cold store. This approach ensures our customers receive the freshest leaves possible.
Lettuce seeds are sown in the greenhouses in January and young plants first appear at the end of February. These are then grown under protective fleece until they are ready to harvest in May. Sequential sowings continue throughout the season with harvest finishing at the end of October.
The Fenlands
The lettuces are grown on farmland in the area of Ely, Cambridgeshire, where the soil and climate are ideal. Cambridgeshire enjoys a mix of black fen soils, skirt fen and silty loams. The black fen is good for its fertility and warmth which suits fast growing crops, with the skirt fen and silty loams being good for their water retention and lower weed pressure. Gareth utilises the most appropriate type of soil available depending on the time of year and the crop in demand.
Protecting the Environment
Gareth places great value on the preservation and development of soils as well as the wildlife and fauna which contribute so much to the diverse environment. 5% of the farmed area is un-cropped and managed for wildlife and, working with FWAG (Farming and Wildlife Advisory Group), identification of key species and habitats for protection and enhancement are present within the farming environment. The farm is Red Tractor Farm assured, LEAF accredited and Combinable Crops & Sugar Beet accredited.