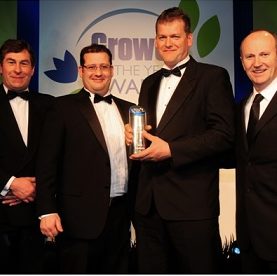 Farming 750 acres in and around Holt Heath, Worcestershire, Harper Farming grows and packs a range of summer vegetables for Reynolds including broad beans, runner beans, peas and sugarsnaps.
Harper Farming has invested strategically in state-of-the-art farming and packing techniques to ensure that consumers receive high quality British produce in the shortest possible time after harvest.
The freshest produce
Harper Farming continues to innovate, including trialling new varieties and different product mixes to maximise cropping opportunities and create a point of difference for the business and its customers. Technology has played an important part in Harper Farming's development. The farm has recently invested £500k in extended facilities including a new blast chiller, high capacity fridge, pack-house, onion processing facility with water recycling and lorry loading bays for effective and safer loading. Specifically to improve crop health, yield and shelf–life (and reduce pesticides), the farm has introduced:
Mulching to reduce herbicides, predators to reduce insecticides and new technology to reduce fungicides.
Innovative and bespoke irrigation systems to stop water splash and soil contamination.
Enviro-Mesh, which is used on leafy crops to reduce pesticides, especially against flea beetle, and soil contamination.
More livestock, alongside a cyclical process of feeding crop trimmings to livestock and using the manure to fertilize the crops.
Other projects include a new underground water system to expand the growing area and move used water efficiently, solar panels to reduce mains consumption, and an IT control system with QR codes and integrated traceability.
Protecting the environment
Harper Farms environmental commitments include planting over 20,000 trees on the Top Barn estate during the last ten years, as well as active involvement with several farm assurance schemes and conservation societies, such as FWAG (Farming and Wildlife Advisory Group) and RSPB (Royal Society for the Protection of Birds), the Good Soil Project and Wild Goose Rural Training.