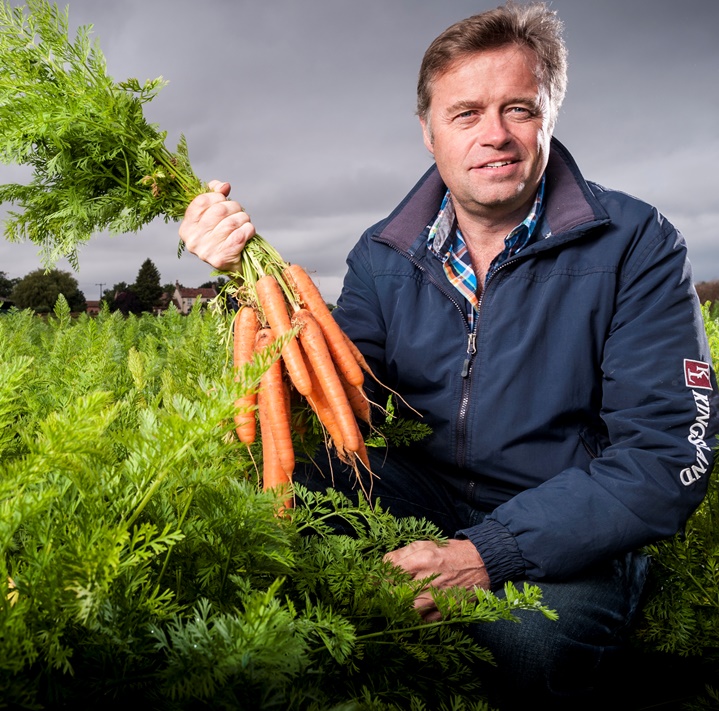 Guy Poskitt is one of Reynolds' main carrot farmers, operating across almost 6,500 acres of land in Yorkshire, Lancashire and Scotland. Guy's geographical spread ensures that Reynolds is able to maintain a quality supply to its customers 365 days a year.
Crop rotation and utilisation
More than 1,200 acres of carrots on the farms are complemented by almost 4,000 acres of arable crops, which are needed to ensure a sustainable one-in-seven carrot rotation. Cropping includes everything from potatoes to parsnips, beet to barley.
All root crops are washed, packed and distributed from one site to ensure control in all aspects of production and food safety. And there isn't anything from these crops that goes to waste; rejects are processed as ready-to-cook batons and shavings go into soup.
Environmental focus
The family participates in the countryside stewardship scheme and has introduced an environmentally sensitive area named Beals Carr. After mining subsidence in 1999, the area is now a haven for all types of wildlife and bird monitoring schemes. The surrounding grassland is grazed with cattle to maintain suitable conditions for ground nesting wading birds. Overwinter stubbles in the surrounding areas also provide a habitat for the grey partridge.
Awards
The business has increased three-fold in the past decade and in recognition of the Poskitt family's achievements, Guy was presented with the 2012 Farmers Weekly Farmer of the Year award. He also walked away with a trophy for Arable Farmer of the Year.
Most recently, in February 2018, Poskitts won the Northern Farming Arable Farmer of the Year.