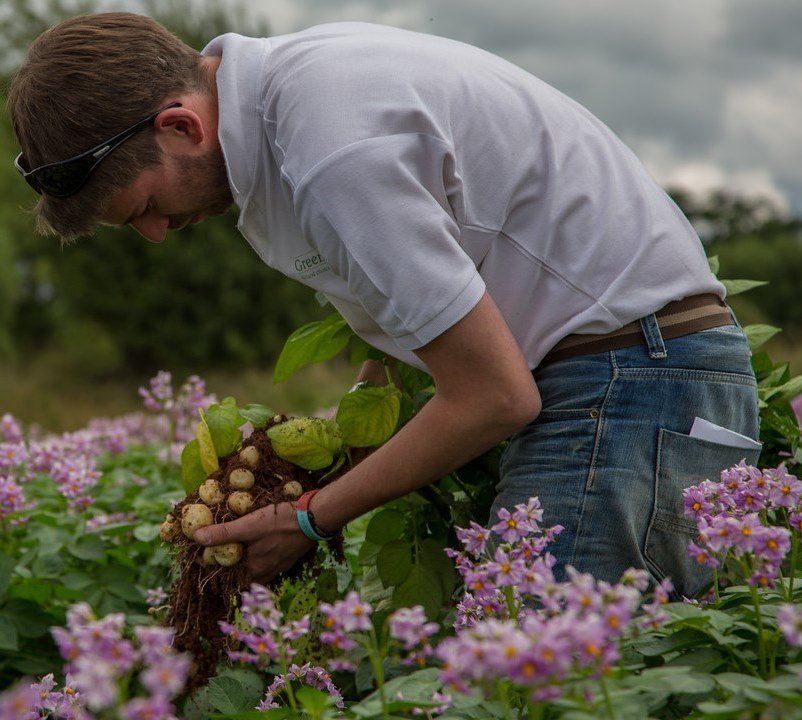 Potato grower and son of a Dundee farmer, Ewan Stark manages Greenvale's growing operation in Scotland and is also Head of Agronomy for Greenvale's Scottish grower base.
Managing over 1,200 acres across Berwickshire, Roxburghshire and North Northumberland, Ewan grows a wide range of potato varieties, including Maris Piper, Desiree, King Edward, Charlotte, and Maris Peer.
Ewan says that usage of high grade seed, land selection and land preparation are the three most critical factors in producing the best crop.
To ensure continuity of supply, Greenvale works with growers right across the UK, 80% of which have been supplying the business for over 20 years.
The process
Land is prepared and potatoes are planted between February and April, after which a number of months of agronomic input follow.
Early season loose skinned Maris Peer will start to be harvested by Ewan, towards the end of July, with the last of the main crop harvested by mid-October. Potatoes are then stored and carefully monitored by the team of experts to ensure quality potatoes are supplied throughout the year.
Environmental focus
Keeping their impact on the environment to a minimum is important to the team at Greenvale and a number of successful projects typify their approach. The business uses sprinkler and trickle tape irrigation for a proportion of their land base, which saves on water usage and means the application can be tailored to meet the crops specific requirements.
Greenvale's unique chilled water recycling system, 'Cascade', is used at their packhouses, saving around 100 million litres of water per annum. This system also delivers a brighter, cleaner product with lower bacterial counts, enhancing customer experience and reducing waste.
Varietal development is a key focus for Greenvale and recent varieties trialed by Ewan have included varieties which have enhanced environmental benefits. These include varieties which require less water or agrochemical applications, as well as those which offer improved yields.