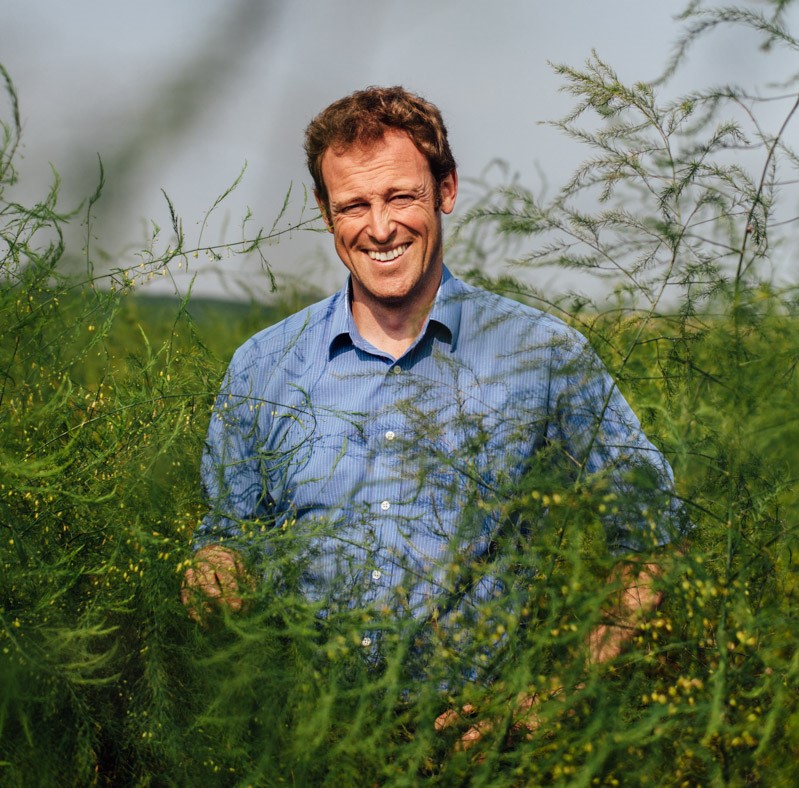 John Chinn is a third generation farmer based in the beautiful Wye Valley, near Ross-on-Wye in Herefordshire, a region perfectly suited to growing asparagus.
Deep-rooted farming traditions
The Chinn family have been farming since 1925 when Wilfred Chinn, John's grandfather, took on the tenancy of 125 acres. Since then, the business, Cobrey Farms has grown to include 975 acres and the family also rents an additional 1500 acres to supply demand for its premium quality English grown asparagus and other crops. These include beans, blueberries and rhubarb.
In recent years, John's sons Henry and Chris (pictured below) have both joined the business, after graduating in agriculture and mechanical engineering respectively. This ensures the family business continues to develop.
Safeguarding the environment
John and his family see themselves as custodians of the land that they farm and work hard to maintain and improve the environment for future generations.
John uses composted green waste to improve fertility in his fields and uses collected rainwater from his reservoir for summer irrigation. He has also created grassed waterways in his sloping fields to combat soil erosion and plants trees and hedges to create additional habitats for wildlife.
Innovative and inspired growing techniques
John has specialised in growing asparagus since 2003 and employs innovative growing techniques inspired by the strawberry industry to extend the traditional period of asparagus crops by six weeks, as well as a later crop around September time – pretty much unique to the industry.
The Chinn family provides Reynolds with their first English grown asparagus from the beginning of April, weather permitting. Thin or fat spears, purple and white varieties, as well as a class II and an organic option are all available on request.