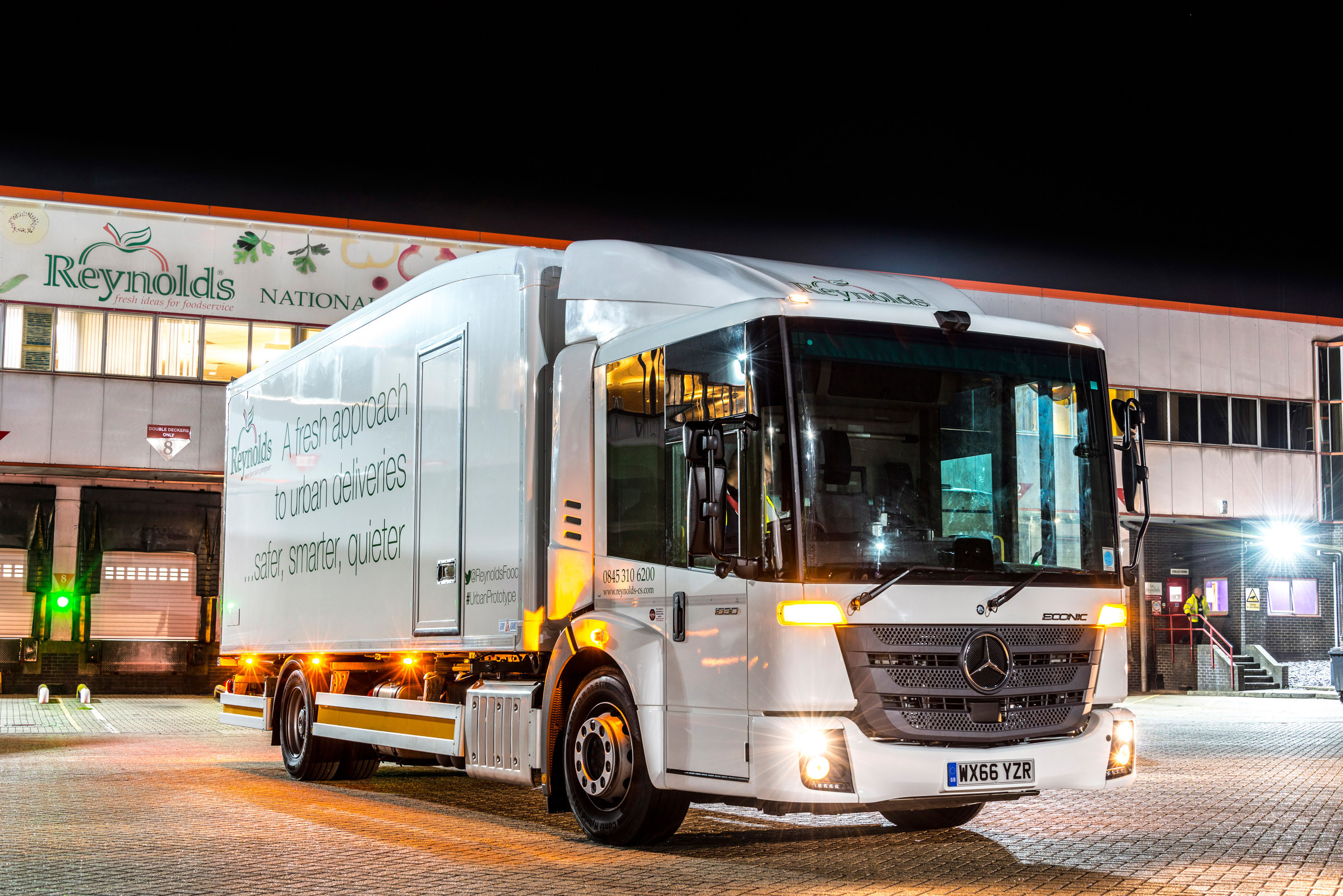 Reynolds has adopted a fresh new approach to road safety by commissioning two of the first temperature-controlled Mercedes-Benz Econic trucks, or 'Urban Prototypes'.
Reynolds' new Urban Prototypes are the subject of contract hire agreements with established partner Gulliver's Truck Hire, and arrived via the leading commercial vehicle provider's chosen supplier, Dealer Group Rygor. They are now making multi-drop deliveries to customers throughout London.
The high-visibility Econic has a deep, panoramic windscreen and a full-length, folding side door allowing the driver, who sits much lower than in a conventional distribution vehicle, to make direct eye contact with cyclists and pedestrians at junctions or in traffic queues.
Reynolds' 18-tonners are also fitted with Sentinel camera systems that give the driver a 360-degree view and also sound an audible warning when a cyclist is alongside, as well as strobe lighting for use when crews are unloading at night.
The Econic's standout low-entry cab has just two steps rather than the traditional four, which also reduces the risk of access and egress injuries for the operator's driver and 'van assistant', while easy through-cab access allows both to enter and exit safely on the non-traffic side.
Reynolds is already accredited to Bronze standard by FORS (the Fleet Operator Recognition Scheme) – the decision to commission these bespoke Mercedes-Benz trucks reflects a commitment to safety and determination to "go for Gold".
Both are Econic 1830 models with state-of-the-art, high-torque straight-six engines that transmit their 220 kW (299 hp) outputs via standard-fit Allison automatic gearboxes.
Their single compartment insulated bodies, meanwhile, are by Gray & Adams. Features include a curved front to the roof which blends into the cab's air deflector, the manufacturer's latest, aerodynamically profiled panel cappings, access doors on both sides and a 1,500kg Dhollandia tail-lift.
Leon Daniels, Managing Director of Surface Transport at Transport for London (TfL), said: "I'm pleased that Reynolds is at the vanguard of forward-thinking companies by using safer lorries with higher levels of driver direct vision. Our recently-published Direct Vision Standard will help other companies bring their fleets up to modern safety standards and make London's roads safer for all."
The trucks leave Reynolds' National Distribution Centre at Waltham Cross, just outside the M25 to the north of the capital, between 2.30 and 3am. They are invariably back at base by mid-day, having typically made 30-35 deliveries.
Reflecting these early hours of operation, Reynolds has also gone to great lengths to ensure its new Econics vehicles are as quiet as possible – their full air suspension makes a positive contribution to noise reduction, while Thermo King promotes its underslung UT-800 fridge as "whisper-quiet" and the operator has specified the vehicle bodies with sound-deadening Marothaan floor coatings.
Launched in 1999, the Econic has been used in a host of different applications but became best-known in the UK as a best-selling refuse truck chassis. Over the last 12-18 months, however, the heightened focus on cyclist and pedestrian safety in busy urban areas has enabled Mercedes-Benz to win a string of high-profile orders for Econic-based tippers, tipper-grabs, skip-loaders and mixers from construction sector operators.
Now Reynolds is highlighting the vehicle's advantages for temperature-controlled distribution duties in towns and cities – although a major retailer trialled a gas-powered Econic with refrigerated body some years ago, Reynolds' new trucks are the first with conventional diesel engines to enter front-line service.
Head of Fleet Support at Reynolds, Steve White is responsible for a fleet of more than 250 vehicles in which the three-pointed star of Mercedes-Benz features prominently. Most are 7.5-tonners although the line-up also includes larger rigids at all sizes up to 26 tonnes gvw, and tractor units for urban distribution and inter-depot trunking.
Steve commented: "Having also worked in the waste industry I was already very familiar with the Econic, and particularly the attributes of its low-entry, high-visibility cab. Given the focus on cyclist and pedestrian safety in London I've come to realise that it could be ideally suited to our operation too.
"The Econic comes at a higher capital cost than a conventional 18-tonner, while our new trucks also carry approximately 750kg less. The reduced payload capacity is partly down to the fact that we've chosen to rack out our Econics, which is not something we'd usually do – this is not a problem though, because we always bulk out before weight becomes an issue.
"What's most important, is that our 'Urban Prototypes' serve to reinforce our commitment to compliance and road safety, while also demonstrating innovation in our field of expertise."
The vehicles also carry SmartDrive vehicle data and video event recording technology, which reviews safety performance and provides recommendations and tools that fleet managers can use to achieve improvements through targeted training and development.
They are the first trucks supplied to Reynolds by Gulliver's through Rygor, which has arranged product-specific training for the operator's drivers. Truck Sales Executive Marcus Cahalin said: "Rygor is proud to have worked closely with Steve and Gulliver's on the development of these ground-breaking vehicles, which position Reynolds as a leader in the temperature-controlled distribution segment. We look forward to building on our new partnership with this high-profile operator."
Room with a view: The Mercedes-Benz Econic's low-seating position and panoramic windscreen gives the driver unrivalled vision
For further press information please contact:
Andy Weir, Head of Marketing
andy.weir@reynolds-cs.com / 07508 177 077