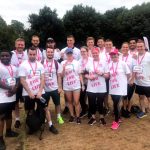 Reynolds is proud that on Sunday 28th July, 58 employees took part in Cancer Research UK's Race for Life in Hyde Park, London.
Cancer Research UK is dedicated to saving lives through research and is working to help prevent cancer, diagnose it earlier, develop new treatments and optimise current treatments by personalising them and making them even more effective.
Race for Life is Cancer Research UK's biggest series of fundraising events, raising money to support their research into all 200 types of cancer. It is non-competitive and participants have the option of walking, jogging or running either a 5k or 10k route, giving people the chance to come together with their family and friends and join the movement to beat cancer.
The first event was held in Battersea in 1994, where 750 participants raised £48,000. Since that point, the Race for Life has grown into a series of hundreds of events across the country, raising nearly £500 million towards beating cancer over the last quarter of a century.
Reynolds is thrilled to announce that we smashed our target of £5,000 and raised an amazing total of £8,173.69 for Cancer Research UK through taking part in the Race for Life, making it our most successful fundraiser ever!
We would like to extend a massive thank you to everyone who took part in the event, fundraised or donated to this worthwhile cause, which is helping to beat cancer!
For more information on about Cancer Research UK and how you can get involved, head to https://www.cancerresearchuk.org/.