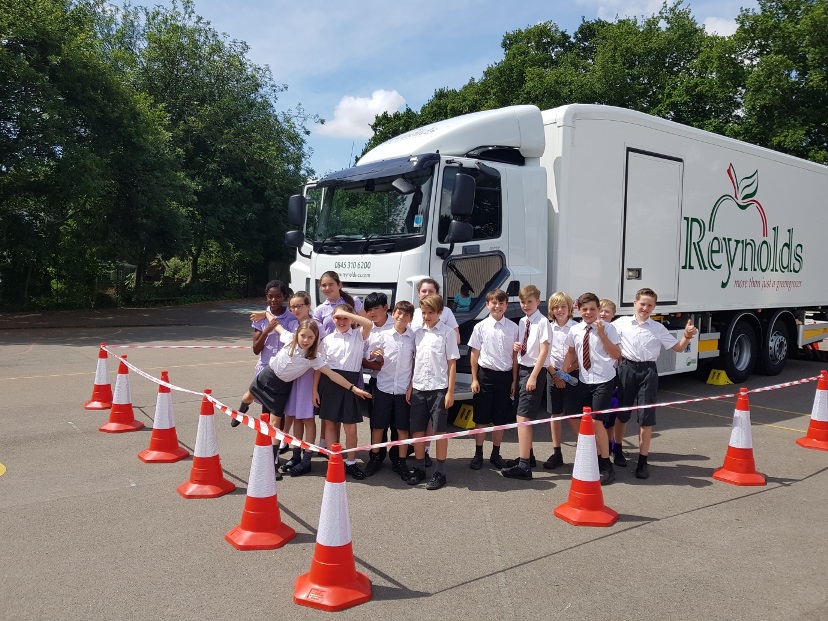 Reynolds has adopted a fresh new approach to road safety by helping improve the standards of road safety amongst school children.
'Be safe and seen'

As part of a commitment to working closely with the local community, Reynolds' HR and transport teams are visiting primary schools in Essex and Hertfordshire to present and demonstrate the company's BE SAFE BE SEEN road safety campaign. The campaign is aimed at Year 5 and 6 pupils and sets out to raise awareness of the potential dangers of LGV vehicles.
Employees at Reynolds have begun the initiative by visiting two schools, in Harlow and Chelmsford. After introducing the company and treating the pupils to a fruit tasting exercise, the pupils are given a road safety awareness briefing, led by Reynolds' Driving Assessor, Wayne Wigger. They are also invited to sit in the driver's seat of a 26 tonne LGV vehicle to experience first-hand what the driver seems from that position. The visit culminates with a combined fruit and road safety quiz after which prizes are awarded and goody bags handed out.
Cyclist safety
Judith Medd, Year 6 teacher at St John's School, Danbury, said: "Safety around the truck was handled extremely well and everyone learnt how to be safe when crossing the road. Sadly, due to local government cutbacks, my class has not been offered road safety or Crucial Crew this year, so Reynolds has compensated for much of this. I was very grateful to Wayne for tailoring his session towards cyclists, at my request, as I have a lot of serious and adventurous off road bikers who needed to learn about blind spots and safe positioning. Thank you for allowing your staff to come out to us and we would be delighted to welcome them back again next year if this is possible."